This mixed media project attracts a lot of attention from other students as they try to discover the name in the sculpture.
Students begin with a sheet of bristol board. (I cut the sheets in half before handing them out.) Using their first or last name, they outline the letters on the board. It doesn't matter where the letters are placed as they will later be cut apart. Make sure that the letters touch at some point to each other. Encourage a variety of shapes and sizes.
While they are doing this we talk about positive (the letters) and negative (shapes between) space. Check their work to make sure when they cut the letters out that they do not have one large piece remaining.
Next students colour the letters and include patterns.
Then the negative spaces are coloured. Positive and negative spaces are coloured with pencil crayons and/or markers.
Once the front is completely finished, the work is turned over.
Students now paint the back of the bristol board with a variety of colours and patterns. Let dry. The back is painted because it will be seen in the final project.
Letters are cut out next and all the negative shapes are also saved.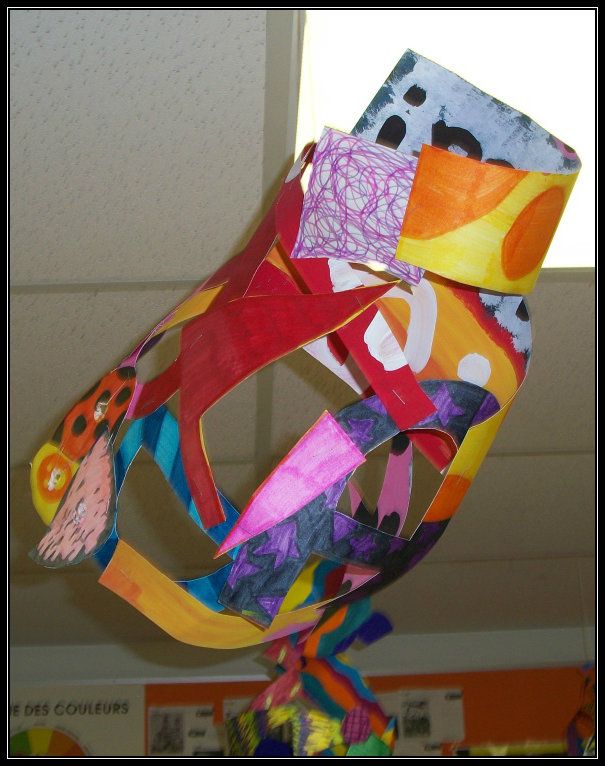 Now comes the challenge.
Students use all the pieces to assemble their sculptures. Shapes are bent, inserted, layered and twisted together to create an interesting form. Sculptures are constantly turned to make sure they are balanced. You have to watch for students that turn it into a ball, have them open up some of the pieces and bend them in other directions to avoid this.
Glue was used to attach the pieces which were held in place with paper clips until dry. Staples can also be used.
Once completed, a loop of string was attached and the sculptures were hung in the room.
Although I've done this with my older students, it could be easily adapted to other grades.
We end with a discussion about how the original positive and negative shapes now become the positive shape of the sculpture and the spaces around and inside become the negative.
This project can also be completed as a free-standing sculpture if you don't want it to hang.